November 7, 2022

Virtualcode Team

0
You can build your own online store more easily than you might believe. Not even coding knowledge is required.
One of the best strategies to increase sales is to build an online store for your company or start your digital store utilising Astra and Woocommerce.
Many people wish to create their own websites and shop. If you are one of them and want to set up an online business without having to work hard or want to hire someone to do it for you, perhaps this article might assist.
In this post, you'll find detailed steps for starting an online store. Using WordPress and the most well-known WordPress theme, Astra, we'll create an online store.
In just 6 easy phases, we'll help you through establishing an online store with WooCommerce.
Add a header to begin generating the table of contents
Step 1: Set Up Domain & Hosting
1. You may buy a domain name and web hosting with hostinger. They are the best in the business and well-regarded. You may easily select a package for your website by going to Hostinger.com.
2. I advise selecting the Premium or above plan in order to receive a free domain name and a lifetime SSL certificate for your website ( SSL secures your website from Hackers).
3. After buying a Plan with the free domain name, you are then taken to your hosting panel. Install WordPress for your website to go online.
Step 2: Install WordPress
When you have a domain name and web hosting, the following step is to install WordPress. You must access your hosting panel to install WordPress.
Install WordPress should be selected after clicking the WordPress logo once again. WordPress will then be automatically installed on your hosting after that.
For your business in 2023, if you're searching for just the best free WordPress themes, you've come to the right place. It may surprise you …
Step 3: Install Astra Theme
You may use any of the Astra theme's templates to construct an online store.
You must first install a starter templates plugin before you can access the starter template page of the Astra theme settings to import starter templates.
Login to WordPress Dashboard
Goto Appearance > Themes > Add New
Search for – Astra
Install Astra & Activate It.
Step 4: Install Astra Starter Sites Plugin
After installing the starting templates plugin, you can access the starter template page of the Astra theme settings to import beginner templates.
Goto Plugins > Add New
Search for – Astra Starter Sites
Install Astra Starter Sites & Activate it.
Step 5: One click WooCommerce Store Publish
Now You can choose any Templates you want and click on import this template, and your template will automatically get Imported.
1. Goto Appearance > Starter Sites
2. Choose one builder Elementor / Block Editor / Beaver Builder (I recommend Elementor.)
3. Search for E-Commerce or Click on E-Commerce Tab.
4. Choose one template from the search. (I Choose Baby Store).

Note: If you want to use premium templates of Astra please click here.
5. Now upload your logo, Color & Fonts.
6. Okay, just one last step… Click on Submit & Build My Website.
7. Wow! Your website is ready in seconds.
Step 6: Setup Online Store with WooCommerce
You can set up elements of good for your online store with the assistance of this setup process.
Next, there is a process that you might be able to completely ignore. After all, our WooCommerce plugin is already installed and pre-configured with import templates. In this method, as soon as you visit your new website, you're prepared to begin developing your online store.
Key store settings will be set up with the wizard's assistance. Let the wizard be your guide.
Although it is optional, we advise following these basic steps to set up the essential setting in your store.
1. Initial setup wizard inquiries regarding your store are on the first page.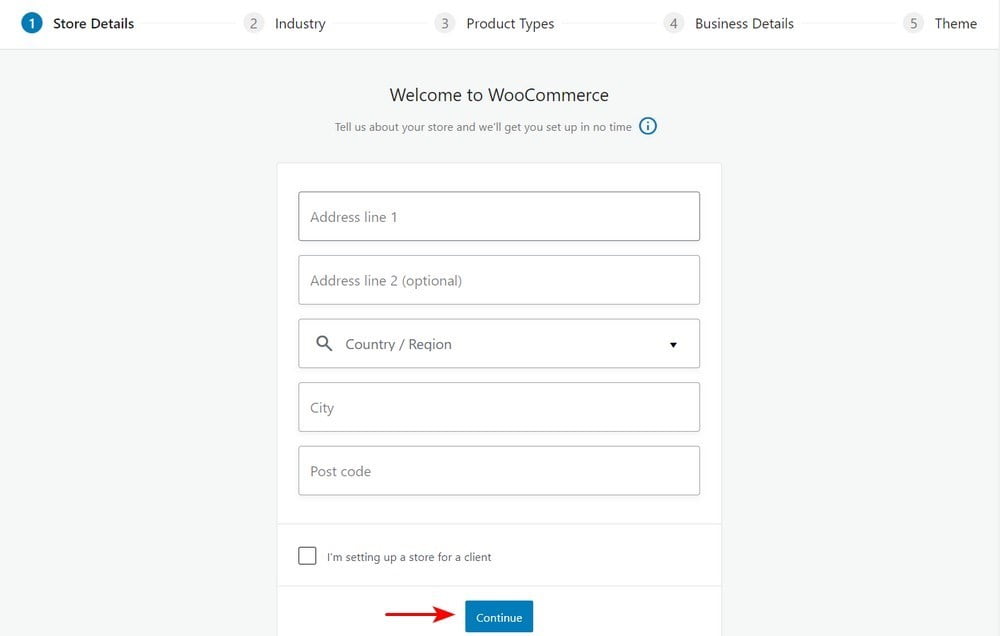 You must provide some information about yourself. Included in this data is the location of your business, your region, and if you are opening for business.
You should be aware that whatever you select on the wizard can be altered if required at a later time on the WooCommerce settings page.
2. Select the industry this store operates in here, then click "Continue"
3. Setting the product category and deciding whether to offer physical or digital goods comes next.
As an alternative, you can spend more money on subscriptions, memberships, bookings, bundles, or specially-made items. They are exclusively premium:
4. You must provide some information about your business on the next screen. Decide how many things you want to show.
If you are selling your items on another platform, you must also mention that: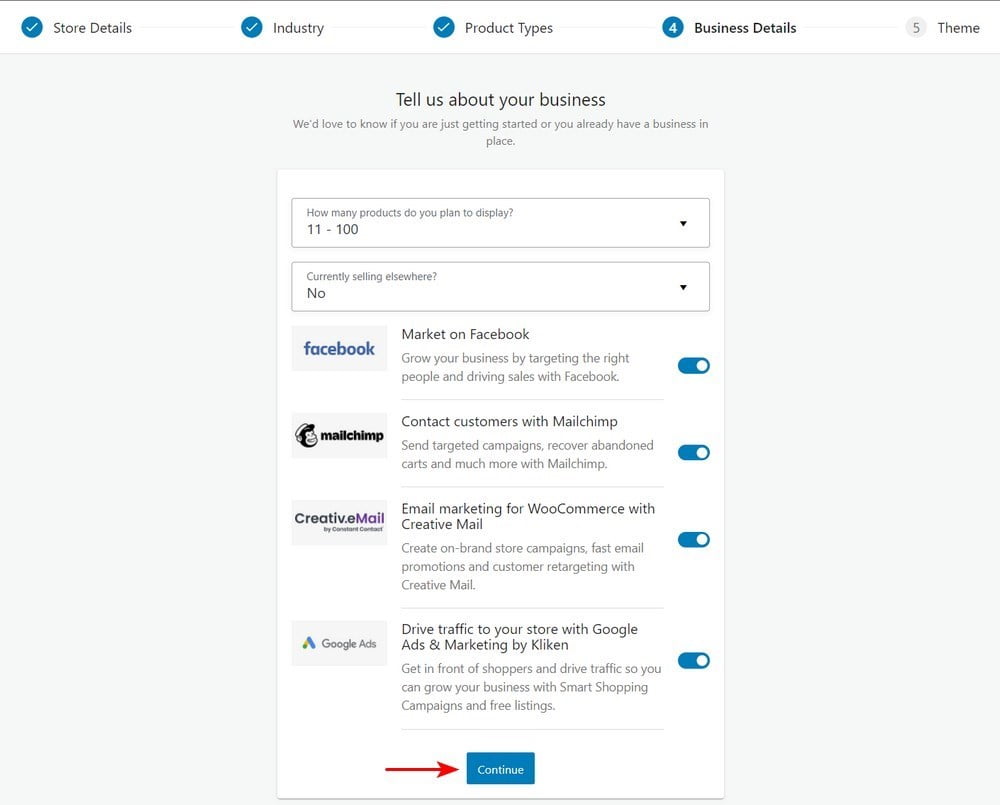 Following that, you'll see a few optional add-ons, as displayed above. None of these tools is necessary to operate an eCommerce shop, but they are all useful
Choosing a theme for your product display is the next step. But you have selected a theme, so go on.
We recommend purchasing the Astra pro theme and Pro Plugin.
Brainstorm Force, a company with over 10 years of experience, is the one responsible for creating Astra.
The theme has more than 1 million downloads and routinely earns five stars because of the excellent customer support. This theme stands out because of how well it connects with page builders, how quickly it loads, and how many premium-quality templates there are.
They have created plugin extensions for Beaver Builder and Elementor called Ultimate Add-ons that are great for online stores. Integration is simple thanks to page builders like Elementor, Block Editor, Beaver Builder, WpBakery Page Builder, Divi Builder, Brizy, and Gutenberg.
Starting an online restaurant website might feel like a lot to handle, but don't worry. It's possible to do it with the right guidance and …
Hope you found this article useful and learned How to Set Up Your Online Store Using Astra & WooCommerce in less than 1 Hour.
The process of setting up an online store is simple, but increasing sales depends on your products, website experience, and marketing.
Hostinger is recommended by WordPress as the best web host. With Hostinger, you can begin creating a professional WordPress eCommerce store in just a few minutes. We can help you rapidly with WordPress installation and WooCommerce setup.
Additionally, business owners won't have to worry about figuring out a new platform on their own thanks to our 24/7 customer service…